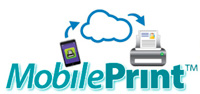 With our new MobilePrint Service, you can use your personal computer or mobile device to print to the library's printer from anywhere.  Simply submit documents for printing and come to the library to pick them up.
To print from a laptop/desktop:
Open the Wireless Printing Portal
Enter your email address
Click on browse to chose the file you want to print.  If printing from a website; copy and paste the URL into the text/browse box
Click on the green print button.  Your document will be sent to the Reference Department
To print from a device:
email your document to lynn-adult@printspots.com
You will get an email confirmation when your print job is available for pick up at the Lynn Public Library
Get the (free) app for your device:

Printeron App
In the app, tap Select a Printer
Search for Lynn Public Library ( lynn-adult@printspots.com)
All prints are in black & white and are $.15 cents per page.  Prints can be picked up at the Reference Desk up to 1/2 hour before closing.